'Burwah' (Madhya Pradesh) (1906)
Brahmavarta or Bithur (U.P)
Ner (Persopant) (Vidarbha)
ACCOMPLISHED
'Burwah' (Madhya Pradesh) (1906)
Burwah, a well known pilgrimage center – beautiful landscape – all along the banks of mother River 'Narmada'- The goddess of 'Tapa', 'Sadhana'- Lord Shankara's daughter- Truly represents the thousands & thousands years old 'Bhartiya Sanskrtiti & `Paramapara.' Lord 'Vasudev' respectfully known & acknowledged as P. P. Thorale Maharaj (प. प.थोरले महाराज) and Datta-Swarup Sanyasin 'P. P. Shrimad Vasudevanand Saraswati Swami Maharaj'. By the divine wish expressed by mother 'Narmada' and conscious dialogue between him and Lord 'Dattatreya' decided to honour the prayer and to conduct and perform rituals, spreading of 'Dnyanbij' (ज्ञानबीज) and cultural heritage and the importance of Ashramas and Aachara's by way of 'Sanyas Dharma'- The most sacred Dharma as per Hindu & Vaidic (वैदिक) traditions – way of living.
P. P. Thorale Maharaj conducted & performed his 16th 'Chaturmasya' (चातुर्मास्य) in row, on the banks of mother 'Narmada'- His known disciples like Sakharamshastri Tillu, P. Sitarambuva, Gandabuva- absolute conscious & dedicated sadhakas gathered in thousands of numbers throughout the Chaturmasya.
P.P. Thorale Maharaj- went through rigorous 'Tapa – Sadhana' (दिनक्रम) discourses on 'Vedant Kesari', 'Panchikaran', and 'Mandukyopnishad' and Aoupnishadic (Question –Answer) sessions used to take place regularly – 'Mother River Narmada'- must have definitely experienced the very rich & proudest moments.
P.P. Thorale Maharaj- in his entire stay- never touched food but lived entirely on fruits, Sattu (सत्तु) & Butter milk. The centuries, after Shrimad Shankaracharya, had never seen and experienced the Vibhuti (विभूती) like him. The absolute illustration of Grand Sanyasa Dharma.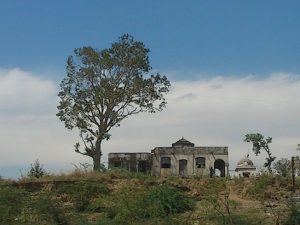 The days and years passed by-
Everything started dividing and went into ruins- The spiritual traditions started shaking-trembling. The Hindu Dharma & Vaidic Parampara always threatened by its own people – towards ashes & extinction.
Are we supposed to come together & do something? Expressing 'gratitude' towards Parampara & Aachara (परंपरा आणि आचार) and not doing anything-
This is our identity? … Yes – We are like this only.
|| कालाय तस्मै नम:||
Today's 'Datta Parampara' or 'Guru Parampara' is worshipped in everybody's heart & head – is definitely gaining momentum but is in depressed state due to lack of conscious people – not coming together – crores of people and Sadhakas are there – but Sanskriti & Parampara struggling to survive.
Specifically, the pilgrimage places, P. P. Thorale Maharaj visited and made a 'stay' in 'Chaturmasya' period are, almost all the places, in a very bad shape – became dirty – not worthy to stay – No Vaidic Poojaarcha – No any rituals – for decades.
This is the ugly truth – a bad message to the Sadhakas of Datta Parampara worldwide and Society in general. We own beautiful houses and pray to him for his 'Kripa' and blessings but never cared to visit and never gave a thought.
Where our 'Lord' stays. We must see and visit – 'NEXT' – Our conscious will guide us – That is 'Guru Dakshina' to our 'Lord Vasudev'.
Here is 'BURWAH' – The beautiful land sketch – has lost its luster-maligned by us – No proper Vaidic Poojanarchan (पूजन-अर्चन) – no any offering – No 'Annadaan' (अन्नदान) – Pigs and dogs are freely moving.
'We are his children & He is our Father'
Lord Vasudev Jirnoddhar Samiti declares with absolute pain and sadness in the heart, we will wash out our sins, sincerely do the duties till our last breath.
'Give us strength'
Oh 'my people'! Please come together.
'Let us build his Empire.'
Small yet significant steps have been taken in building empire of our Aacharya.
A 300 mtr ghat has been built on the Banks if River Narmada at Burwaha, Nav Ghat Khedi by the Gram Panchayat under the guidance of P.P Ajit Dada in barely 3 months' time. The 'Vasudev Datta' ghat has been named and inaugurated by Shri Dada. The architecture of the temple has already been finalized and all these procedures are legally backed up as the Burwaha temple trust is now a Public Trust.
Brahmavarta or Bithur (U.P)
Ner (Persopant) (Vidarbha)
ACCOMPLISHED
Corporate and Registered Office
A-7, Shreepuja, Gujarat Colony, Plot No: 1,
Paud Road, Kothrud,
Pune : 411038.
Email: vvppune@gmail.com
Donations exempted u/s 80G of Income Tax Act 1961